LAUGHTERFACTOR ENTERTAINMENT
Make your next event memorable with Silly Sam. I work either by the hour or by the event. Each event is priced individually to take into consideration the type of entertainment needed, time and travel. I'm happy to make quotes!
Silly Sam does balloon twisting, unicycling, simple juggling, simple plate spinning, and comedy magic.
We also have Oops A. Daisy the clown if schedule permits.
SILLY SAM IS LOOKING FOR A REGULAR CLOWNING JOB IN THE RUSSELLVILLE/ DOVER AREA. If you're looking to hire a professional clown, email us and say wanting "Silly Sam" for event.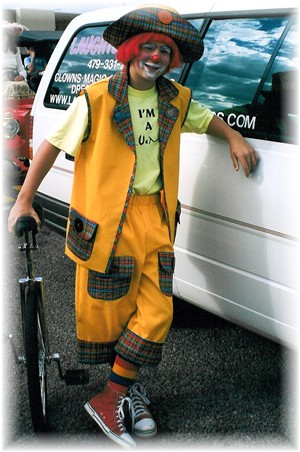 More photo's will be added soon
See SILLY SAM's photo below!
501-747-1772
Located in Little Rock now.
479-747-1889
Text "I need a clown!"